About Bengaluru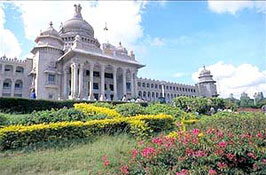 Bengaluru, or Bangalore as it was known before, is the capital city of the Indian state of Karnataka. It is well-known as the hub of India's information technology sector and hence is known as the Silicon Valley of India. The city is among the top 10 preferred entrepreneurial locations in the world. A demographically diverse city, it is a major economic and cultural hub and the second-fastest growing major metropolis in India.
SOUKYA is located in Whitefield, Bengaluru. It is located 21 kms from the heart of Bengaluru, known as the 'Silicon Valley of India' and 50 kms from the International Airport. It is located 7 kms from the International Technology Park in Whitefield.
Language Information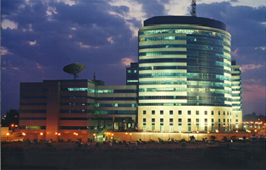 Although Kannada is the local language, English is widely spoken. The city has a large expatriate population and cultural institutes such as Alliance Française and Goethe-Institut/Max Mueller Bhavan, give them an 'at-home' feel.
Weather Information
Due to its high elevation, Bengaluru usually enjoys a more moderate climate throughout the year, although occasional heat waves can make things very uncomfortable in the summer.
Flight Information
Foreigners should have a Visa to India.
Bengaluru is connected by direct international flights including British Airways, Air France, Lufthansa, Singapore Airlines, Gulf Air, Emirates, Thai International, Sri Lanka Airlines and Air India. (For those transiting through any other city in India in the same airlines, immigration and baggage clearance are in Bengaluru).
Bengaluru is connected by direct national flights to all the main cities in India including Delhi, Mumbai, Kolkata, Chennai, Hyderabad, Goa and Cochin.
Tourist and Shopping Information
For the shopping enthusiasts, Bengaluru is just the city to be in. From the small by-lanes of crowded markets like Chickpet to swanky shopping malls, the city offers a variety of interesting shopping destinations.
Commercial Street
One of the most frequented shopping places in the city, Commercial Street is mainly famous for garments, hosiery and textile stores.
Mahatma Gandhi Road (M.G. Road)
Mahatma Gandhi Road, also known as M.G. Road, combines the old age charm of Bengaluru with modern amenities. A multi-purpose shopping area, it provides a wide array of items, ranging from electronic equipments to textiles, books, silk saris, antiques and sandalwood artifacts.
Brigade Road
Brigade Road is the hangout for youngsters. Coffee shops to fast food, garments to electronics, this place has it all.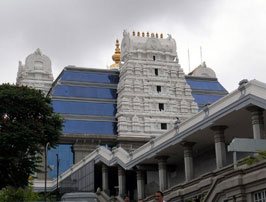 Bengaluru offers you a wide range of options when it comes to sightseeing. Take in the architectural wonder of the Vidhana Soudha, the historic Bull Temple and the ISKCON Temple, or enjoy nature at the Cubbon Park or the Bannerghata National Park. Visit the LalBagh Gardens for a floral delight or spend a day boating at the Lumbini Gardens.
For those who like to travel a bit more, Mysore is just a few hours away. The historic city of palaces, gardens and temples, dating back to 500 years, epitomises traditional splendour and is uniquely charming. Visits to the famed Mysore Palace, Chamundeswari temple, and Lalith Mahal Palace Hotel and the Ranganathitu Bird Sanctuary would round off a memorable trip.
A few other places to visit would be the Belur and Halebid temples, the giant monolithic statue of Mahveer Jain at Shravanabelagola, the Kabini Wildlife park, the Hampi temples, the Jog Falls and the soft white virgin beaches of Karwar.
Wherever you may chose to go, remember to keep your jewellery, cash, travel documents and passport safe. For shopping, Visa, Master and American Express credit cards are widely accepted.